Technique
Technique is the style and approach you use to actually physically play the guitar. This involves studying a method and practicing to acquire the expertise to apply it. An important first part of learning to play the guitar is to come to a clear and realistic understanding of the amount and type of time and dedication it takes to progress. Some techniques will become personal and some have existed long enough that it might just be almost impossible to improve upon them. Some of how you play will depend on your physical self and some will be a matter of personal preference and comfort (your body style and length of your fingers might determine how or even whether you do certain things) but by and large the basics of how to most efficiently play the guitar have been established and have endured over time. How you acquire these basics is another matter and something that crosses into the diverse and fascinating field of education–marrying how we learn and how we give and receive instruction to how we pass on knowledge and skill.
This "walking exercise" will build strength in your left hand and introduce the first taste of right hand technique. Using a pick, you'll benefit from paying close attention to the relationship the pick has to the string. We call this playing "from the string" and it affects the tone you get and the quality of your experience from here on out. Do this exercise slowly and with as much concentration as you can maintain. Move the exercise up the neck one half step (one fret) at a time to at least the tenth or eleventh fret at least once a day. Make sure you maintain an exaggerated "legato" feel to what you are playing.  This means you should keep a finger on the fretboard at all times.
RIGHT HAND TECHNIQUE – LESSON ONE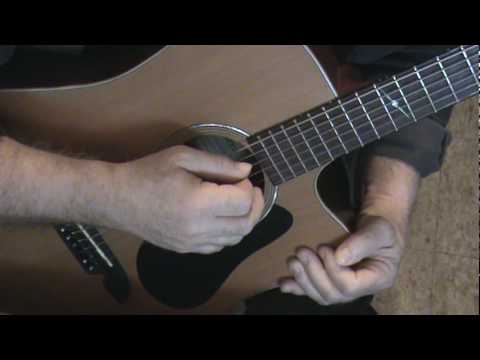 LEFT HAND TECHNIQUE – LESSON ONE
THE FIVE SHAPES
I will most probably move this section to a page titled SCALES but for now I want to get it on the site. These are exercises for more advanced students or possibly for the student who already knows that they take playing pretty seriously.